See you at TechCrunch Disrupt and FOSS4G!
It's been a busy week here in Austin, TX with the first ever Austin Startup Week. We've met lots of amazing folks working at startups, venture capital firms and bigger companies. Tonight, we dive into some Big Data Love with our friends from Ravel and tomorrow, perhaps the event we are most excited for this whole week – API Hackday ATX.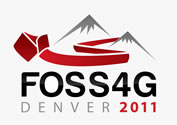 In addition to these great local Austin events, we've also sent some chimp ambassadors to two other big conferences happening this coming week.  Our very own geographer, Sophia Parafina will be teaching a workshop on Deploying Map Services in Amazon Web Services at FOSS4G.  The workshop will be held on Tuesday, September 13 from 1pm – 4pm and we're sure that anyone who attends will gain a ton from Sophia's decades of experience in this field!
Also, we're sending two of our newest chimps, Jim England and Tim Gasper (of the recently acquired, Keepstream) to TechCrunch Disrupt 2011 in San Francisco.  We're sponsoring this weekend's hackathon and we're excited to share our new Geo API with the Disrupt attendees.
So, where you're in Austin, Denver or San Francisco this weekend and next week – we'd love to see you!  Come our and say hi to a chimp in person.