You can bust out your tin foil hats without fear of judgement, folks, because you are not alone. Even Stephen Hawking believes in them (and that we should probably be afraid of them).
You may have heard of our infamous 60,000+ Documented UFO Sightings with Text Descriptions.  This humble 78 MB dataset (also available as an API) has spawned several fun visualizations and apps that we've rounded up to share with you today.  Everything we're featuring here was build in a matter of hours – so we encourage you to play around with the thousands of data sets and APIs on our site and come up with something cool on the fly!
UFOS Walk Amidst Us
Created by Tom Britton, this simple app uses our IP to Geo API to figure out where you are, then tell you what UFO sightings have happened near you. You can also search by different cities in the upper right.
UFOLibs
We've written a post about UFOLibs before, you can check out here.
Built over a 3 Day Startup weekend, UFOLibs uses web framework, Sinatra and Infochimps API for 60,000+ Documented UFO Sightings. The resulting app allows you to enter your other worldly experience, Mad-Libs style, to compare against the recorded experiences of thousands of others. Not only is the end result produce a delightful diversion, but it showcases that with our API and Sinatra, "even our Biz Dev guy (Dick Hall) can make a web application".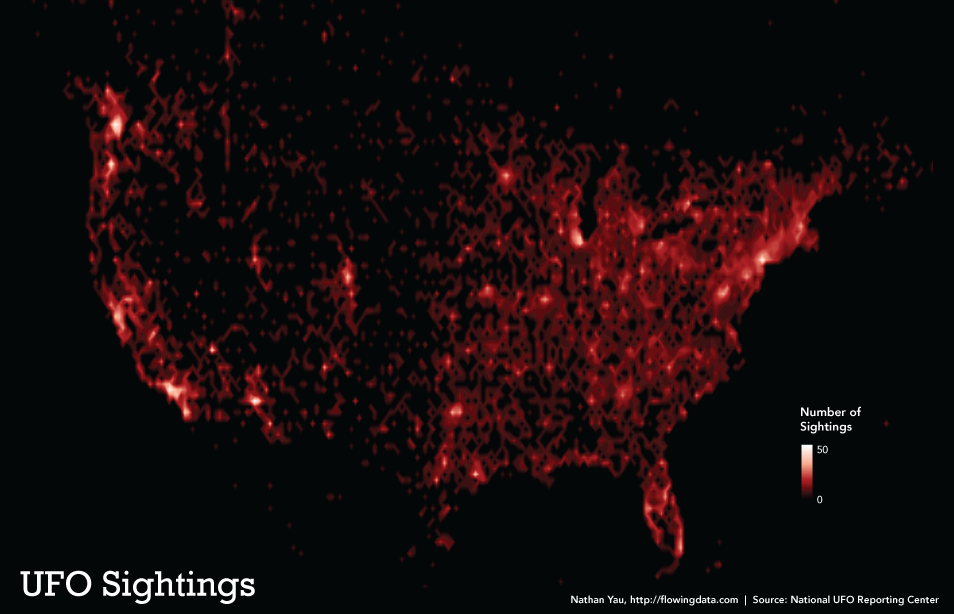 Where the Aliens Fly Their UFOs
Our friend, Nathan Yau of Flowing Data came across our UFO data set and used it as an excuse to mess with R and create this cool "globular" heat map of UFO sightings across the US. He also compares this to the locations of major US airports and finds some interesting connections.
May the truth be with you!