The Answer to Life, the Universe and Everything
… is apparently not 42.  That's right, according to mathematician Lothar Collatz's 1937 conjuncture, given the following algorithm, you will always end at the number 1:
Take any natural number, n.
If n is even, divide it by 2.
Otherwise, n is odd. Multiply it by 3 and add 1.
Repeat indefinitely.
(Okay, maybe that's not sufficient justification for calling 1 the answer to life, the universe and everything, but hey, it's still a pretty sweet proposal!)
Developer, Jason Davies created an animated visualization of this that shows all the numbers that fall within an orbit length of 18 or less.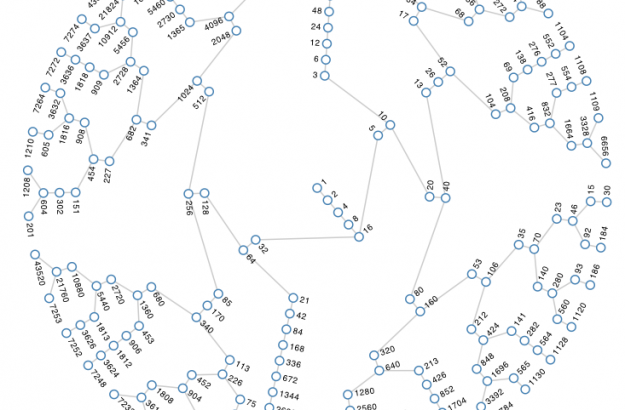 Davies has also created several other awesome math visualizations here. After poking around through his site, I highly recommend Arnold's Cat Map. It's a transformation that appears to randomly scramble the pixels of an image. Run it enough times and you'll arrive back at your original image, unaltered.  Pretty nifty!
via FlowingData