OKCupid Proves the MySpace Angle is a Good Thing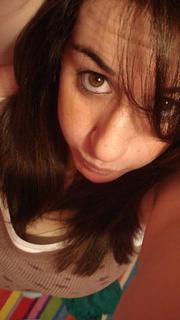 You may not know the girl to the left here, but you certainly know this kind of photo… the arm in the shot (clearly showing she's taking the picture of herself… herself), the downward angle, the wide-eyed pouty look.  That's right folks, it's a MySpace angle photo and pretty much, if you have an account on any social media site, you've surely seen these kinds of photos dozens of times.  Heck, you've probably even taken some yourself.  So why are we talking about the much-maligned MySpace photo in a data-centric blog?
OkCupid's OkTrends, a dating research blog, pulls data from their millions of users to get answers so some fascinating questions about dating, relationships and how we present ourselves online.  So… the MySpace photo… would you believe that this kind of image is the most popular kind female photo based on new contacts per month?  In other words, even though social networks are littered with these images and folks seem to be more vocal about their silliness than their sexiness, the data doesn't lie.  Women with a MySpace shot are nearly 60% more likely to get contacted than women with photos of themselves in bed.
Wonder what would happen if someone took a MySpace-style photo in a bed outdoors?  Also, in a funny little twist, women with photos posing with an animal are much less desirable than women with other kind of photos, but guess what kind of photos the most desirable men have…